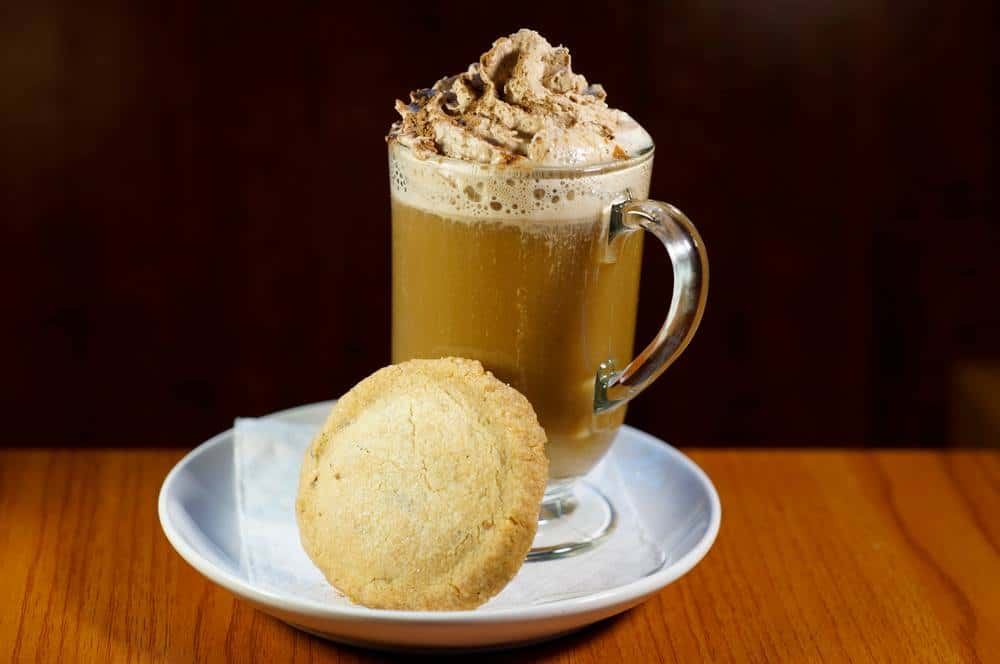 Recipes
SUNNY POINT CAFÉ HUEVOS RANCHEROS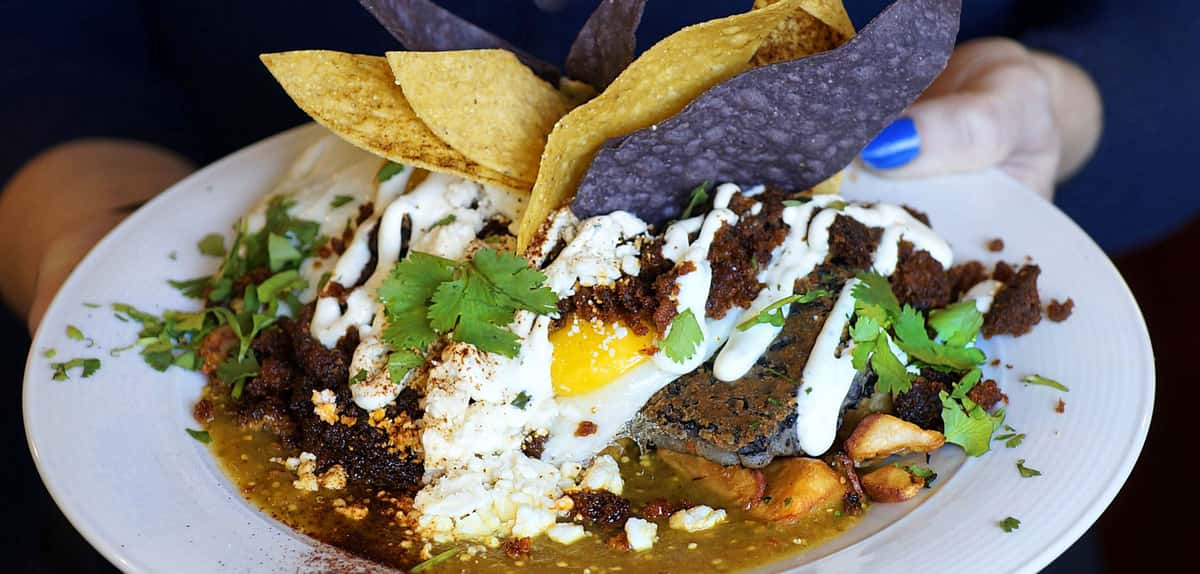 A signature dish at Sunny Point Café, these Huevos Rancheros are comprised of multiple recipes that are assembled and served with made-to-order eggs on top.

Serves 8

Cilantro Crema
1 cup sour cream
1/2 cup fresh cilantro, chopped
1/2 lime, fresh-squeezed lime juice
Place sour cream, cilantro and lime juice in the bowl of a food processor and puree until mixture is smooth and a pale green color. Set aside for garnish.

Roasted Green Salsa
1-3/4 lbs fresh tomatillos
1/4 cup yellow onion, minced
2 garlic cloves, peeled
1 tsp dried oregano
1 tsp dark chili power
1 tsp ground cumin
1 tsp kosher salt
1 tsp ground black pepper
2 Tbsp olive oil
1 or 2 Serrano peppers, minced
1/2 cup fresh cilantro, chopped
Preheat the oven to 350 degrees.

Place tomatillos in a large bowl with water and peel the husks off of them.

Place them in a large roasting pan and top with onion, garlic, oregano, chili powder, cumin, salt and pepper. Drizzle olive oil over the top of the tomatillos. Place roasting pan in oven for 25 to 35 minutes. The tomatillos will break down and become juicy.

Remove from oven and cool. Once tomatillos have cooled place in the bowl of a food processor fitted with a metal blade and puree with Serrano peppers and fresh cilantro.

Black Bean Cakes
2 15-ounce cans cooked black beans
2 Tbsp canola oil
2 Tbsp yellow onion, minced
2 garlic cloves, minced
1 tsp ground cumin
1 tsp kosher salt
1/4 cup masa de harina
Rinse and drain black beans.

In a small sauté pan heat 1 tablespoon of the canola oil over medium heat. Cook onion, garlic, cumin, and salt until onions are translucent.

Place drained beans and onion mixture in a small mixing bowl with a paddle attachment and mix together on low speed until well combined. Gradually add masa, allowing mixture to absorb it before adding more. Test dough by rolling it in the palm of your hand. Keep adding masa until dough doesn't stick to your hand and holds in the shape of a ball. Divide the dough into 16 small balls and flatten into cakes.

Place a large skillet or griddle over medium heat and add the remaining 1 tablespoon of canola oil. Cook cakes until lightly browned on each side, about 3 to 5 minutes per side.

Completing the Huevos Rancheros

4 cups red skin potatoes, fried or roasted
2 lbs chorizo sausage, cooked and crumbled
16 eggs
1 cup feta cheese, crumbled
1 package fried torilla strips
Fresh chopped cilantro, to taste
Chipotle power, for garnish
Place a 1/4 cup of green salsa on half of serving plate. On the other half, place 1/2 cup of herb-seasoned potatoes. On top of potatoes place 2 freshly grilled black bean cakes.

In a large sauté pan over medium heat, cook your eggs to order.

Top potatoes, green salsa and bean cakes with eggs, crumbled chorizo sausage, and feta cheese. Garnish each plate with tortilla strips, cilantro crema and a dusting of chipotle powder.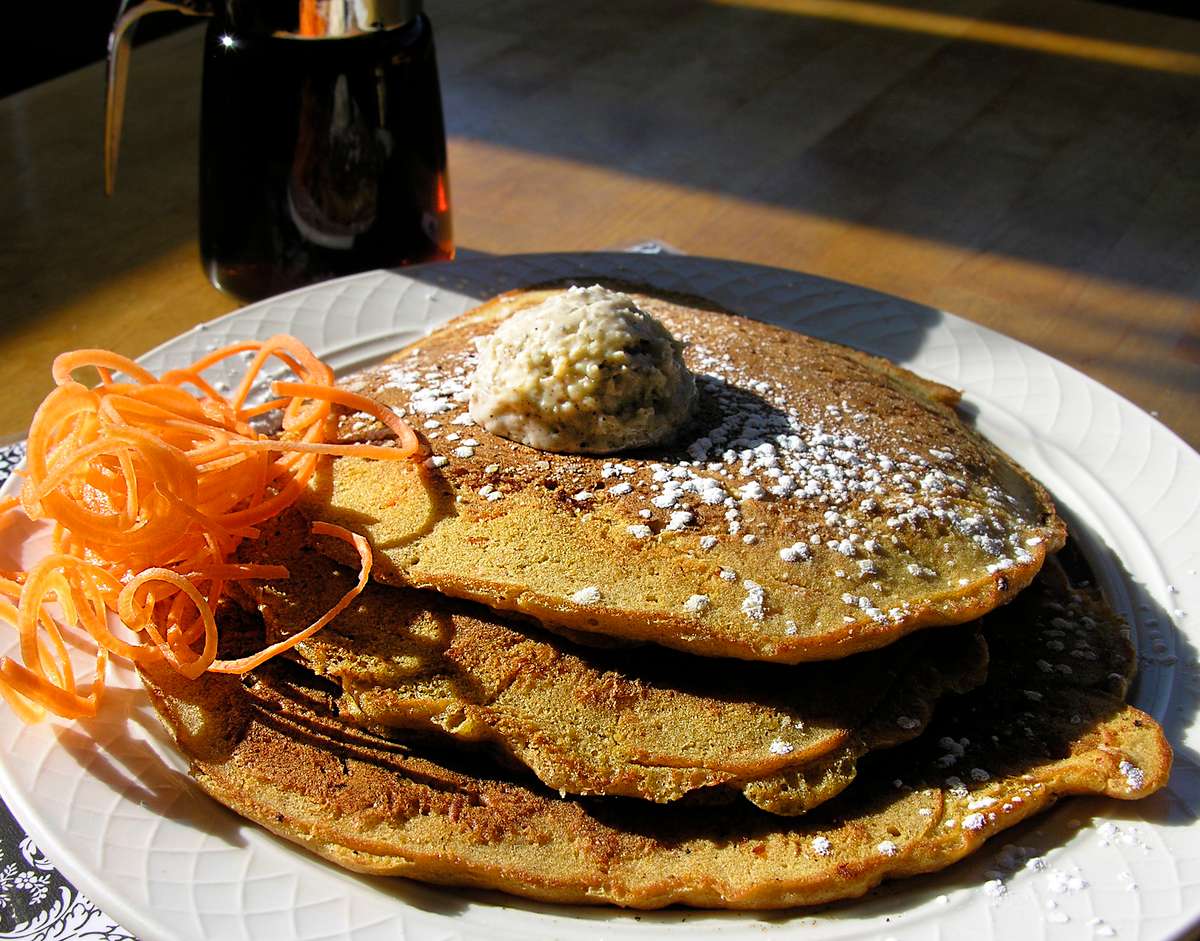 A favorite for both the young and young at heart visitors to our café, these hot cakes are packed full of carrot goodness. We serve them topped with cardamon cream cheese and real Vermont maple syrup.

Enough for 4 to 6 hungry people.

2 large eggs
2 cups whole milk
3 ounces unsalted butter, melted and cooled
1 teaspoon salt
1 teaspoon baking soda
3/4 teaspoon baking powder
3 cups all purpose flour
1 cup granulated sugar
4 cups peeled and finely grated carrots
2 teaspoons ground cinnamon

Whisk together eggs, milk and butter in a large mixing bowl. In a second bowl sift the salt, baking soda, baking powder and flour. Stir the sugar, carrots and cinnamon into the eggs and milk then add the dry ingredients and mix together until just combined. Preheat a griddle over medium high heat, lightly oil and add batter to pan in small batches being careful not to overwhelm the pan so it stays hot. Eat as you cook or hold in a 200 degree oven and serve topped with cardamon cream cheese and warm maple syrup.

Cardamon Cream Cheese
12 ounces cream cheese, softened
4 ounces unsalted butter at room temperature
1/2 cup powdered sugar
1 1/2 Tablespoons ground cardamon
3/4 teaspoon vanilla extract

Place all ingredients in a mixing bowl and combine on low speed using a paddle attachment until just combined.
SUNNY POINT CAFÉ SHRIMP & GRITS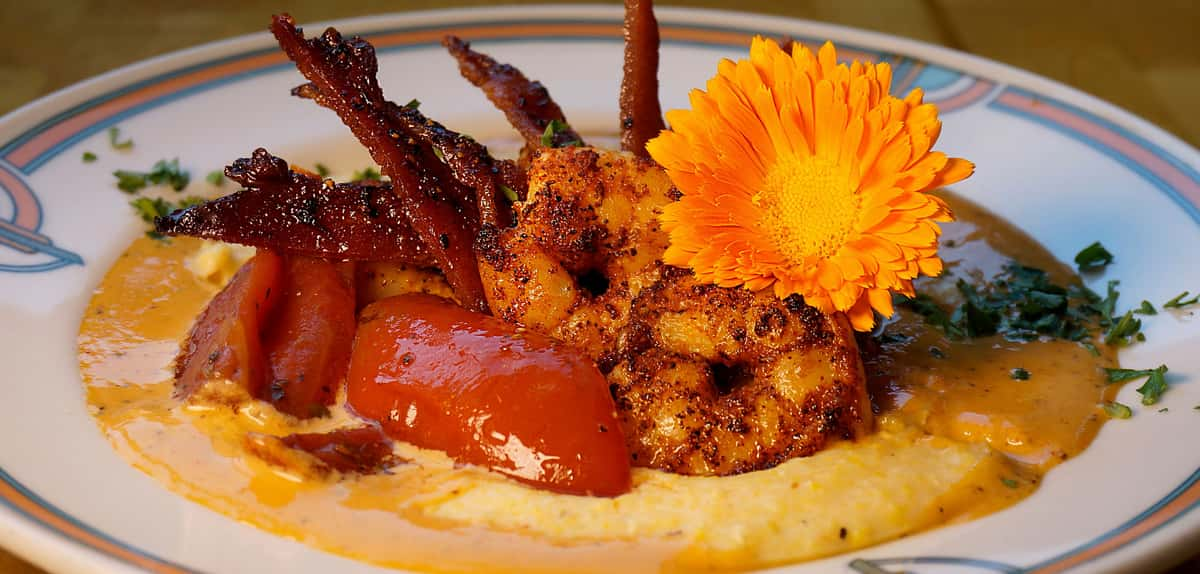 Our award-winning shrimp & grits is one of our most requested recipes.

Local food critic Stu Helm, The Food Fan awarded us "Best Shrimp 'n' Grits" so often that in 2018 he decided to retire the category and give us a Lifetime Achievement Award for "Best Shrimp 'n' Grits Ever!"

We hope you enjoy creating this for your family and friends at home!

Serves 4

1-1/2 lbs fresh shrimp, peeled and tails removed
blackening seasoning to taste
2 Tbsp butter
2 Tbsp white wine
2 to 3 roasted tomatoes
1-1/4 cups heavy cream
1 tsp whole grain mustard (Sunny Point uses Asheville-made Lusty Monk mustard)
2 tsp Dijon mustard
Garnish:

crispy bacon (Sunny Point's award-winning bacon is nitrate-free, based with maple syrup and black pepper)
chopped parsley
Toss shrimp with desired amount of blackening seasoning and set aside

Place a large sauté pan over medium-high heat. Once hot add butter and when that is sizzling, add shrimp. Cook until shrimp just begin to curl.

Add white wine and tomatoes to the shrimp and let reduce slightly, next add the heavy cream, whole grain and Dijon mustards. Bring to a simmer and cook until cream thickens and shrimp is cooked.

Serve over yellow stone-ground grits (Sunny Point grits have cheddar cheese and chipotle mixed in for added flavor) and top with crisp bacon and chopped parsley.
STRAWBERRY SALAD WITH LOCAL GOAT CHEESE AND A RHUBARB VINAIGRETTE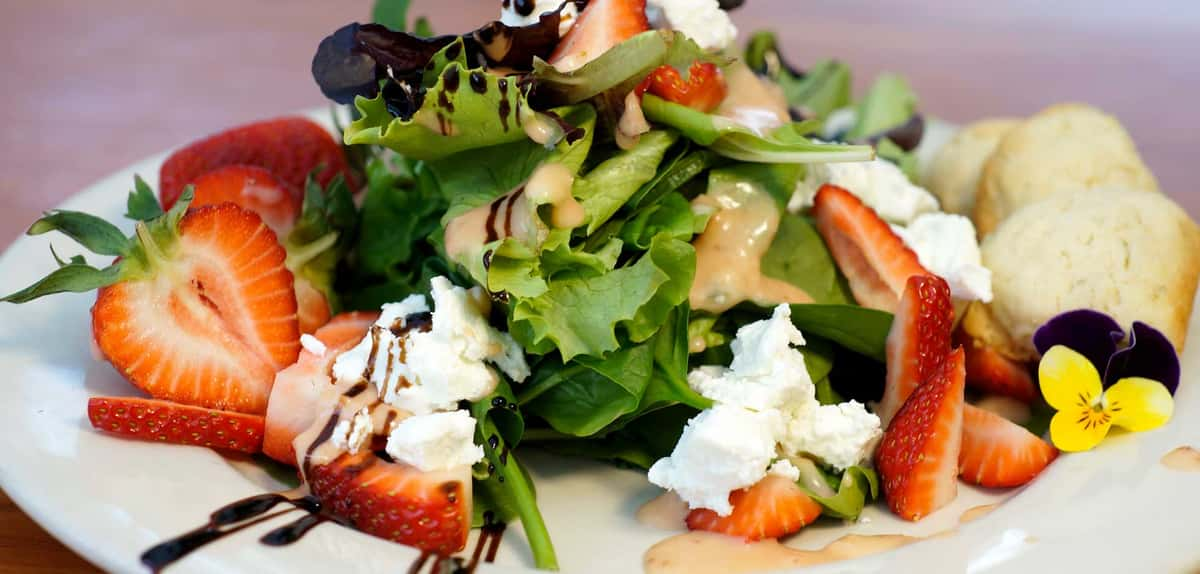 One of the earliest items we harvest out of our on-site garden in the spring is rhubarb. The plants are perennial and come back quickly after our mild winters. By April the plants are lush and we can harvest stalks. Rhubarb is wonderful paired with strawberries, as the tartness of the rhubarb and the sweetness of strawberries complement each other, Many of you are likely familiar with strawberry-rhubarb pie which accentuates this lovely pairing.

In this light, spring salad, the strawberries are paired with goat cheese and the rhubarb is used in the vinaigrette to provide a nice zest.

For the salad:

6 cups fresh spring greens ( we recommend a mix of baby spinach, arugula, and deer tongue lettuce)
3 cups sliced ripe strawberries
6 ounces fresh local goat cheese
For the vinaigrette:
1 small shallot, peeled and thinly sliced
1 cup thinly sliced rhubarb stalk
1/4 cup honey
2 tablespoons water
1/4 cup raspberry vinegar
2 teaspoons whole grain mustard
1/2 cup rice bran oil
1/2 teaspoon salt
1/4 teaspoon white pepper
To make the vinaigrette, place shallot, rhubarb, honey and water in a small sauce pot and bring to a simmer over low heat. Cook until rhubarb just begins to break down. Remove from heat and cool.

Add raspberry vinegar, mustard, oil, salt, and pepper to the rhubarb mixture and puree until smooth using a stick blender.

Wash greens and pile in a large bowl.

Place sliced strawberries in a small bowl and toss with 1/2 cup vinaigrette.

Top with crumbled goat cheese and serve with Salted Lavender Shortbread.

Serve with Salted Lavender Honey Shortbread.

Salted Lavender Honey Shortbread

7 1/2 oz All Purpose Flour
2 Tablespoons Cornstarch
1/3 cup Granulated Sugar
1 teaspoon Lavender flowers
3/4 cup Unsalted Butter, room temperature, cut into 1 inch cubes
1 teaspoon Salt
3 Tablespoons Honey
1/2 teaspoon Vanilla
1/2 teaspoon Flake Sea Salt
Preheat oven to 350 degrees. Sift together flour and cornstarch into a large bowl.

Place sugar in a small bowl, add the lavender and rub the blossoms into the sugar with your fingers to release the oils.

Add salt, butter, honey, vanilla, and sugar mixture to the flour. Using a pastry cutter or finger tips, cut the butter into the flour mixture until it resembles a coarse meal and will just hold together.

Gather dough into a ball then roll into a 2 inch diameter cylinder. Wrap in clear plastic wrap and chill for 1 hour. Cut the cylinder into 1/4 inch thick slices and place on a parchment lined baking sheet. Sprinkle top with flake sea salt and place in preheated oven and bake until just begging to brown on the edges.
ROSEMARY BISCUIT NAPOLEON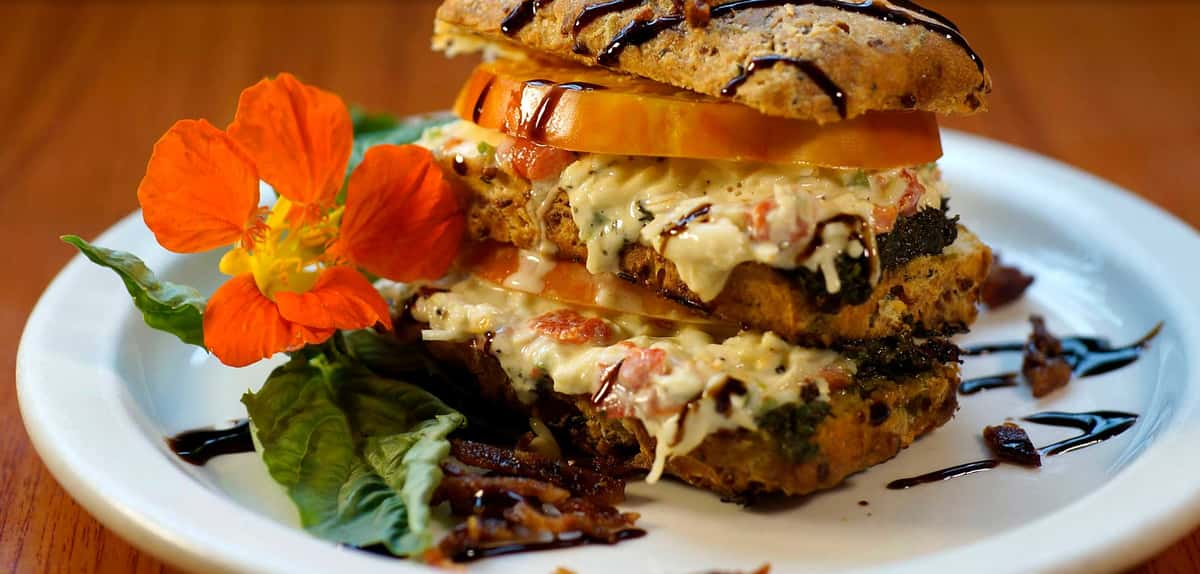 A summertime favorite at Sunny Point Café, when fresh heirloom tomatoes and garden basil are readily available. The rosemary biscuit dough needs to refrigerate overnight, but bakes up quickly making this an easy to assemble flavorful and beautiful dish.

Pimento Cheese
1 cup grated sharp cheddar cheese
1 ½ cups grated parmesan cheese
1 cup grated smoked gouda cheese
1 medium size red pepper roasted, peeled, seeded and cut in ¼ inch dice
2 jalapeno peppers finely minced
1 cup mayonnaise
1 ½ Tablespoons cider vinegar
1 Tablespoon honey
freshly ground black pepper and salt to taste
Place all ingredients in a large mixing bowl and gently combine by hand.

Parmesan Rosemary Biscuits
4 cups all purpose flour
1 Tablespoon baking powder
1 teaspoon baking soda
2 Tablespoons granulated sugar
1 teaspoon salt
1 Tablespoon instant dry yeast
1 cup grated parmesan cheese
2 Tablespoons chopped fresh rosemary
1 Tablespoon fresh ground black pepper
¼ cup chopped fresh parsley
1 cup unsalted butter
2 cups buttermilk

Place flour, baking powder, soda, sugar, salt, and yeast in a large mixing bowl and toss all ingredients together until just combined. Add parmesan, rosemary, pepper, and parsley and again mix to combine.
Cube butter into 1 Tablespoon size pieces and using a pastry cutter mix into flour mixture. 

Once butter is cut in and is about pea size add the buttermilk and mix by hand until dough gathers together into a wet ball. Place in a covered container and refrigerate overnight.

The next day turn dough onto a lightly floured surface and roll out to 1 inch thick. Cut into 2" x 4" rectangles and place on a parchment lined baking sheet. Brush lightly with melted butter and sprinkle with extra parmesan cheese. Bake at 400 degrees about 18 minutes until golden brown.

To make the napoleons split prepared biscuits in thirds, toast and layer with fresh heirloom tomatoes, pimento cheese, garden basil pesto and crisp crumbled bacon.